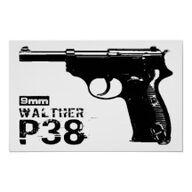 It's a gun created in World War II, about the beginnings of this, used by the German army in 1930, developed by Walther, this was created more than a million copies, and was used until 2000.
Characteristics
Edit
Nacionalidad: Alemania (Nazi)
Creador: Walther.
Calibre: 9 mm.
Cartuchos: 8 o 7.
Tipo: Semiautomatica.
In the game, do not specify the full name of the weapon (Walther only), but it appeared that it was a P 38 due to their similarities in history and in the game.