Terry Palmer
Status:
Alive
Birthplace:
Pennsylvania,
United States of America
Nationality:
American
Games:
Men of War
Appearances:
1 game
First game:
Men of War
Last game:
Men of War
Private Terry Palmer is a soldier from Pennsylvania who was journalist before deciding to join the United States Military. He served during World War II.
Biografia
Edit
Journalist career
Edit
Before joining the United States Military, Terry was a journalist.
Servicio milita
Edit
Captura del arsenal
Edit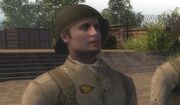 On November 8, 1942 in Algeria, North Africa, at the beginning of Operation Torch, Terry and the team worked with were assigned to meet with their contact and then proceed to infiltrate a German stocked full stock of weapons, he used of personal weapon a silenced welrod, which was of sufficient help to make way for the old tower.
After the team made its move to the rendezvous, they were given instructions as to catching weapons from an arsenal. After having managed to reach the cellar and cleared the way, they were going to raise the American flag.
Private Palmer and his team managed to reach the hold and ensured the arrival of their allies, with the team raising the United States flag to point out the safe area for their arrival.
Palmer and his team must then be able to fend off enemy attacks until a truck was loaded with weapons. Palmer and his team then escaped with their allies, managing to secure the truck with a lot of weapons.
Behind the Scenes
Edit
Appearances
Edit
Game appearances

Men of War

Men of War: Red Tide
Men of War: Assault Squad
Men of War: Vietnam
Men of War: Condemned Heroes
Although Terry is stated to be a Private, his rank insignia is erroneously given as a First Sergeant.
Community content is available under
CC-BY-SA
unless otherwise noted.