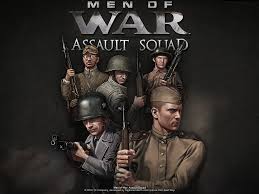 Men Of War Assault Squad
Men of War: Assault Squad is a real time tactics strategy game set in World War 2. It is a standalone expansion pack for the 2009 game Men Of War.
5 playable nations to play including USA, USSR, Germany,Commonwealth and Japan.
Each nation has its own abilties in the battlefield.

Each soldier in Men of War is a self-contained unit controllable by the player using a traditional real time strategy control scheme or through direct control.
Further games
Edit
Along with the original game and the upcoming rumored sequel, three other stand-alone expansions have been released.
Multiplayer Units
Edit
Other Units
Edit
Armoured Vehicle
Edit
Motorbike
Edit
Light Tank
Edit
Skirmishes
Edit
Overlord
Carentan
Battle of the Bulge
Caen outskirts
St. Hilaire
Market Garden
Battle Axe
Operation Torch
Armhem
Soviet Union
Edit
Smolensk
Koenigsberg
Manchuria
Khalkhin Gol
Singapore
Iwo Jima
Multiplayer
Edit
4 modes - combat, assault zones, frontlines and skirmish.
Combat/Assault Zones Maps
Edit
Frozen River (1x1)
Reloading Point (1x1)
Road (1x1)
Winter Church (1x1)
Winter Hills (1x1)
Bocage (2x2)
Canyon (2x2)
Farmstead (2x2)
Heights (2x2)
Kanawa mine (2x2)
Trainyard (2x2)
Tramway depot (2x2)
Workshop (2x2)
Dead river (3x3)
Farmland (3x3)
Frag town (3x3)
Kasserine Pass (3x3)
Westland (3x3)
Bazerville (4x4)
Lakeland (4x4)
Road to Langres (4x4)
Nijmegen (4x4)
Suburb 2 (4x4)
Town (4x4)
Village (4x4)
Fields (5v5)
Forest (5v5)
Ostwind (5v5)
Rustle of sands (5v5)
Grand suburb (5v5)
Dubovka (6v6)
Glubinka (6v6)
Hunting (6v6)
Hills (6v6)
Desert Walk (8v8)
Frontlines Maps
Edit
Ice village (1x1)
Moskow (2x2)
Silent Town (2x2)
Jungle battle (3x3)
Sevastopol (3x3)